Marcel Darienzo
THE BEST PART OF THE SHOW IS THAT IT NEVER STARTS
2017
Simulation
Made for the context of LE PLUS GRAND CABARET DU MONDE, an evening of performances inside the exhibition Future Fictions at Assembly Point, London, the work is a 20 minutes reflection on the theatre and gallery formats.
In order to do so, THE BEST PART OF THE SHOW IS THAT IT NEVER STARTS adds to the exhibition space a live band, singing, video, dance and theatre elements.

1 - With the lights off, the band warms up and play short unrecognizable music extracts while the performer calls emphatically for its audience - just as rock and pop stars do - "ARE YOU READY FOR THIS?". The constant repetition of the sentences and the band hitting the notes now and then create a sense of akwardness and dark humour in the air.

2- A video juxtaposing images of war machinery being transported through american railways to gifs and memes from the internet covering a wide range of reactions. the performer carries on with calling the audience - "LET'S DO THIS!".

3- As the title of the work appears on the wall, the work is finished, and the performer calls for an attachment to the work. To the sound of "In the air tonight" by Phil Collins the performer investigates feelings that take over reason. He struggles to understand when emotions deliver more content than the thinking. The performer is emphatic in repeating a simple score: hand, arms, legs and feet move in order to establish the distance between his body and the audience's.
Photo documentation:

Credits: Natalia Janula
Stills from the video: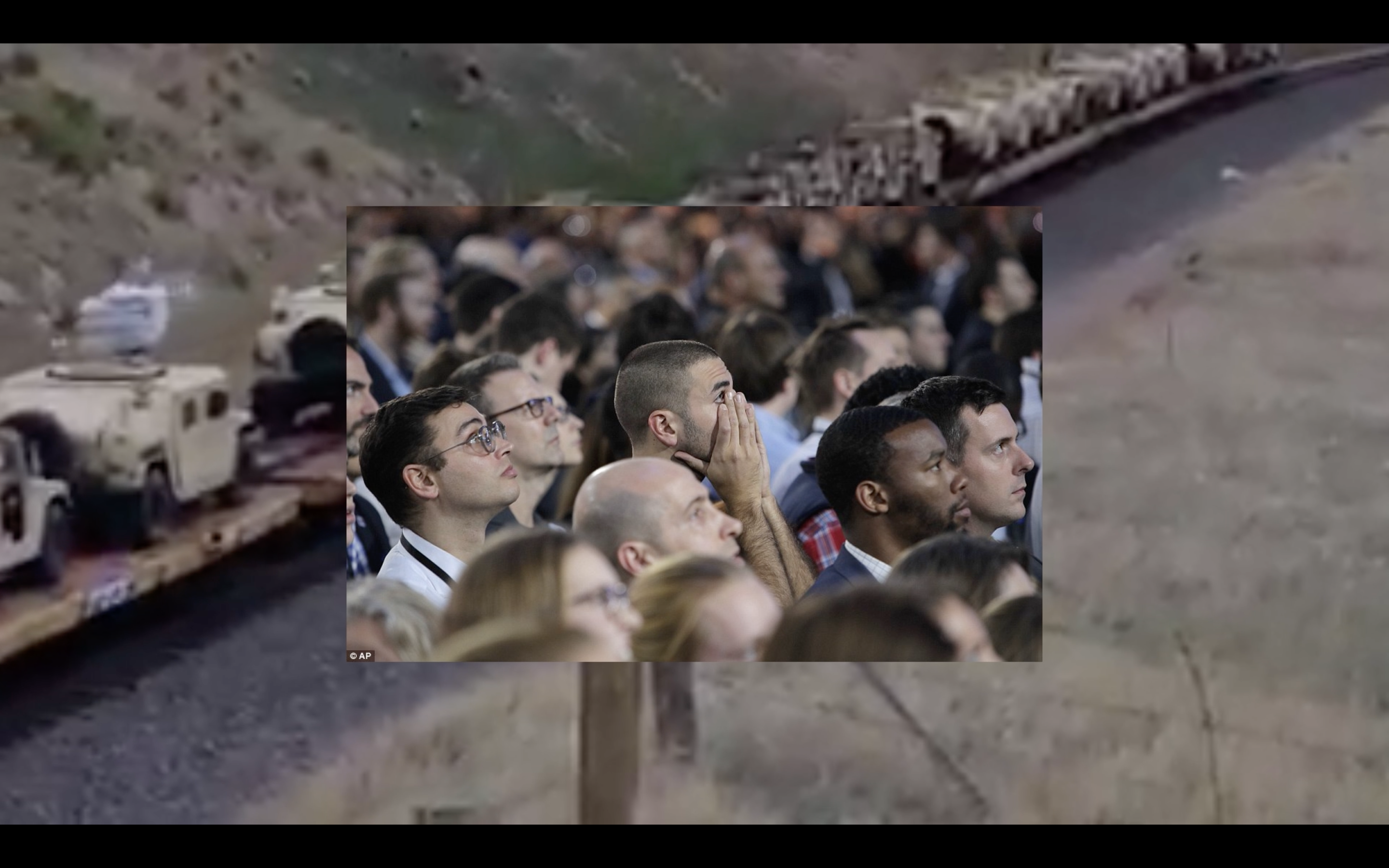 HOW ARE YOU DOING TONIGHT LONDON?

Y'ALL CAME HERE FOR SOMETHING TONIGHT

ONE... TWO... THRE...

LET'S GO NOW!

THANK YOU ALL FOR BEING HERE TONIGHT...

LET'S DO THIS!
The theme-song of 'the attachment':